Martine is eleven when she goes to live on a game reserve in Africa. One lonely night, she looks out and sees a white giraffe in the moonlight. Local legend says that a child who can ride a white giraffe will have power over all the animals – and as soon as Martine sees the giraffe, she knows she will risk everything for it.
This poster is also available as on cream background to assist dyslexic readers.
In this extract from Chapter 5 of The White Giraffe, Lauren St John's debut novel, Martine is just getting used to her new surroundings and compares her new African home with the 'grey, gloomy England' she has left behind.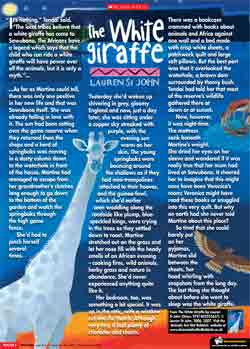 Shared learning and teaching
Reading and responding
Read the introductory paragraph, modelling intonation and pace. Invite children to read a paragraph each.
After reading, summarise what is happening. (Martine has just come to live in Africa with her grandmother and is describing what she has seen.)
Are Martine's parents with her? How do we know? What suggests that Martine has come to live permanently in Africa? How is she reacting to her new home? Distinguish between explicit information ('She was already falling in love with it' or 'Her bedroom, too, was a bit special') and implicit suggestions – eg, the sun warms her skin, she takes in the 'heady' smells; she remembers England as grey, cold and gloomy.
Explore how the author uses powerful adjectives and interesting verbs to paint a vivid picture. Try replacing these words with less interesting ones. Eg: 'The young springboks were bouncing around…' reflects both Martine's happy mood and how agile and light springboks are. 'The young springboks were jumping around…' tells us far less. Spot/discuss similes ('like plump, speckled kings').
Reread the opening paragraph. What is the difference between a legend and a myth?
Explore Martine's emotions through drama. How does performing Martine's actions make them feel?
Log in to your account to read
Published 30 April 2009
Reviews
This item has 4 stars
of a maximum 5
Rated 4/5 from 5 ratings
You need to be signed in to place a review.