This game uses a castle scene as the stimulus to develop oral sentence composition, practise reading skills and introduce some new themed vocabulary. It links closely to the content of Poster 1, How to attack a castle.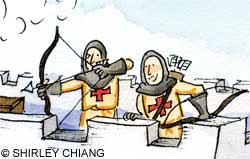 Before playing
Look at the picture together and discuss the scene. Encourage the children to be as precise as possible when describing the aspects of the scene. If necessary, ask prompt questions which invite descriptive answers – eg:

What can you see on the drawbridge?
What is about to happen on the battlements?
Why do you think the man has a ladder?
What do you think the tunnel is for?
What can you see happening inside the castle courtyard?

Look at some of the pictures around the edge and match them to the main picture.
Read the labels.
Log in to your account to read