Get two games in one in this interactive resource for two players. Compete to be the first to label the parts of a castle correctly, then put the instructions in the correct sequence to build your very own castle!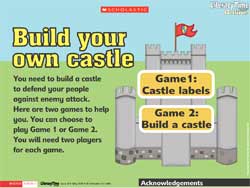 Playing the game
Go to the child title screen where you can choose which game to play by clicking on 'Game 1: Castle labels' or 'Game 2: Build a castle'.
Game 1
On the screen you can see two castles, one for each player. There are jigsaw-shaped gaps in the pictures. Players must complete their castle by finding the missing parts and placing them in the correct position on the castle. The players will need to click where indicated to decide who will start.
During play, jigsaw pieces will appear one by one under each picture. With each piece appears a label for part of the castle (moat, drawbridge, gatehouse, wall, tower, keep, arrow slit and battlement). Players must read the label then drag the jigsaw piece into the correct place on the picture.
When a player places a piece in the correct position, it remains there so that the picture is gradually completed. The player will hear that word being spoken, then the next piece and label will appear under their opponent's picture. If a label is placed incorrectly, it will 'bounce back' and that player's turn is over.
The aim of this game is to be the first to finish labelling a castle. The winner is rewarded by being able to raise a flag on top of their castle.
Log in to your account to read