Regarded as Britain's greatest diarist, Samuel Pepys' writing is of huge importance to historians. Clare Bevan brings his story to life…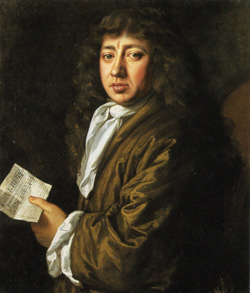 Daily diary
Samuel Pepys was an important man with an important job – but we mainly remember him for his wonderful diaries. He liked to describe all sorts of things – both big (like the voyage to find King Charles II, who was hiding in a faraway country) and small (such as the parties and plays he attended).
Explain to the children that they are going to write their own famous diaries. Every day, for one whole week, they can describe anything that seems important to them: a horrible dinner; a funny TV programme; a quarrel with a friend; a new pair of shoes. If something big has happened in the world (a disaster; an exciting discovery; a celebrity wedding…) they can write about that too. Tell them that the best diaries sound as if they are whispering a secret – Guess what happened today!
Each day, the children can decorate their pages with drawings, newspaper cuttings, photographs or even small objects. Children who find writing and spelling tricky can record their news in cartoon strips. Show them how to add important words (Woof! Help! Stop!) in speech bubbles.
Once the diaries are finished, the children should make sure their names are on the cover, along with the dates of the week they have recorded. Now they can take their books home and store them in a safe place – for the children of the future to read!
Quills and spills
Tell the children that Pepys usually wrote with a quill pen; a trimmed feather from a goose or swan. The nib had to be dipped in ink – or run dry! Occasionally, Pepys used the latest invention – a fountain pen with a metal nib and an ink container… but sometimes it made blots!
Let the children try writing with various different pens – mapping pens (to be dipped in ink), fountain pens, roller balls, felt-tipped pens, ballpoints, and even feathers! Provide ink holders with wide bases (to avoid disasters) and blotting paper (to give great delight as the blots turn into spidery shapes!).
Subscriber-only content
Scholastic Resource Bank: Primary - subscribe today!
Over 6,000 primary activities, lesson ideas and resources
Perfect for anyone working with children from 5 to 11 years old
Unlimited access – only £15 per year!
Subscribe
Already a subscriber? Sign in below.