All aboard for the creative curriculum!
5 Stars
25 March 2009
Add to My Folder
This item has 5 stars
of a maximum 5
Rated 5/5 from 4 ratings (Write a review)
Lizzy Lines' school decided to break free of single subjects and embrace topic-based teaching. Her first topic? The Vikings!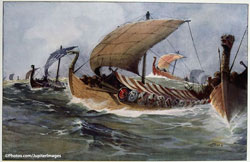 When we decided to return to a good old-fashioned topic-based curriculum, my heart jumped for joy. No more trying to jiggle the subjects around, squeezing two hours' worth of ideas into one hour or making tenuous links between one curriculum area and another. The freedom to embrace a topic and run with it through every area of the curriculum was like a dream come true.
Having got everyone on board with such a dramatic change, we then had to decide on a topic. We wanted something fresh, something exciting, something never taught in our infant school before. I wanted to do the Vikings! I have to admit here that I already had a bit of a passion for the Vikings. I've visited Iceland twice, the second time with my five-year-old son, and we had really played up the whole Viking thing while we were there. I knew it could work – I had seen the excitement the subject could bring to a small child with my own eyes.
Log in to your account to read