Saint David, (Dewi Sant) is the patron saint of Wales who lived in the middle of the 1st Century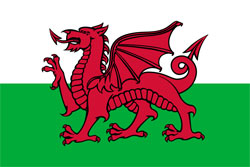 Because he lived so long ago, we don't know very much about him, but in the 11th century a man called Rhygyfarch, the son of the bishop of St David's Cathedral wrote an account of his life based upon books found in the cathedral, telling stories about him that may be true, or may be based on legend and myth.
David was born in Wales into the royal family of Ceredigion. No one is sure of his exact birthday, but it is thought that he was born some time before 500AD. One story about him says that when he was baptised, the blind man holding him was cured by the water used for his baptism, and a spring of fresh water came from the ground.
He was educated at a monastery near Aberaeron, in Carmarthenshire, under Saint Paulinus of Wales, a blind monk who he is said to have cured of his blindness by touching his eyes. Recognising him to be a very special man, Saint Paulinus sent him to become a missionary and he became well-known as a teacher and preacher, spreading Christianity among many Celtic tribes.
St David's day celebrations
Many schools in Wales celebrate St David's Day and often children will dress in the national costume of Wales. Boys wear a white shirt, Welsh flannel waistcoat, black trousers with long woollen socks pulled up over them and black shoes and sometimes a flat hat. Girls wear a petticoat with a Welsh flannel overdress, a shawl and apron, and a tall 'stovepipe' hat with a white frilled bonnet underneath. Others wear a daffodil or leek instead of costume, and buildings fly the Welsh Flag with its red dragon (Y Ddraig Coch).
Traditional celebrations include Welsh folk dances, singing Welsh folk songs and writing poems and reading them aloud. Often these will form part of an Eisteddfod – a festival of singing, dancing and reciting where prizes will be awarded.
Log in to your account to read