A fun, interactive mathematical version of 'Call my bluff' in which children have to choose the correct definition for 30 maths words.
Playing this game will encourage children to work together in groups, discussing their ideas and explaining their opinions. It will also improve their dictionary skills and consolidate their mathematical knowledge.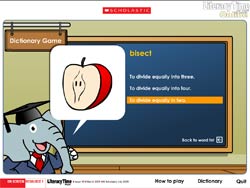 Before playing
Have a maths word race in which children work in teams, are given a time limit, and must list as many words relating to maths as they can.
Can teams explain what their maths words mean? Why is it useful to know these words and their meanings?
Playing the game
Introduce the online resource, starting by reading 'How to play'. What kind of writing is this page? How do they know? Highlight imperative verbs and discuss their role within this section of the text.
Return to the title. Is this whole text instructional? Discuss the kind of writing the rest of the resource might be, what kind of features they might expect to see and why more than one text type has been combined.
You can complete the game working in teams, pairs or groups. If in groups, encourage the children to take on different roles – eg, spokesperson, answer checker, reader. If in pairs, give the children specific speaking and listening skills to work on.
Model how to check answers.
Log in to your account to read
Reviews