The well-known Ancient Greek myth about Icarus and Daedalus has been retold here by Moira Andrew specially for Literacy Time PLUS.
These teachers' notes accompany the PRINT ONLY guided reading leaflet in Literacy Time PLUS Ages 5 to 7, March 2009.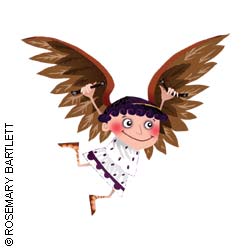 Before reading
Talk to the children about Greek myths. Do they know of any other stories that are Greek myths? Show them a selection that you may already have from the school library or that you have found on the internet.
Look at the titles and discuss what the stories might be about.
Previous learning
Children should be able to: read simple words and texts; show an understanding of the main elements of stories, such as main character, sequence of events and openings; retell narratives in the correct sequence, drawing on the language pattern of stories.
Key learning outcomes:
Log in to your account to read