Andy Stanton goes on a journey of discovery with Dr. Seuss' philosophical story…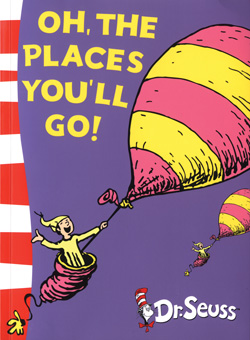 Today I realised I can still remember what it felt like to read Dr. Seuss for the first time. I was in my first year at primary school when I picked up The Cat in the Hat – and of course I'd never seen anything like it. The outrageous characters, the free-wheeling drawing style and that patented rhyme scheme, somewhere between a gallop and a march – it turned my five-year-old world on its head.
Oh, The Places You'll Go! (HarperCollins, ISBN 9780007158522) bears all the classic Seussian trademarks, but this time all the wackiness adds up to something a bit deeper and more philosophical.
Synopsis
The book is essentially a roadmap to the ups and downs of life. Along with the every-child main character, the reader encounters a series of weird metaphysical landscapes filled with impossible architecture, berserk visual perspective and all manner of crazy creatures. Some of these places are friendly, others less so. But not to worry – they are all just stages on life's journey and, according to the book, you're '98 and ¾ per cent guaranteed' to bypass the pitfalls of existence and become a success.
Log in to your account to read