Use the discovery of the Rosetta Stone to explore hieroglyphs and writing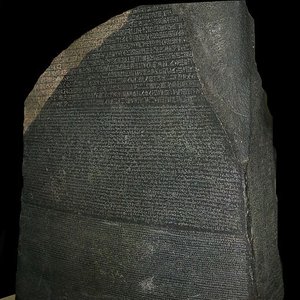 By 3,200BC the Ancient Egyptians had developed a written script called hieroglyphs, which they thought was a divine gift from the gods. Evidence of this script can be seen on many Ancient Egyptian remains, including the Rosetta Stone (see image below).
The evidence
It is the summer of 1799. In a fort, just north of the town of Rosetta, Napoleon's soldiers are busily building up defences against a British attack. Egypt has become important as a faster route to India. As the soldiers pull stones from an old wall, they notice a distinctive piece of black granite covered with different kinds of writing. Knowing how enthusiastic Napoleon has become about Ancient Egyptian artefacts, they immediately show him the stone.
Why was the Rosetta Stone important?
The Rosetta Stone turned out to be the single most important development in Egyptology – the passkey to unlocking the long lost secret of Ancient Egypt's written language. Soon, scholars and Egyptologists were competing with each other to be the first to crack its code. It contained three different types of writing:
First, there were lines of ancient hieroglyphic script.
Underneath that, the writing was in a more flowing and faster script called Demotic, which had been introduced in the later years of Ancient Egypt.
However, it was the third section which provided the vital clue to the mystery. It was in Greek – a language many of the archaeologists understood.
Subscriber-only content
Scholastic Resource Bank: Primary - subscribe today!
Over 6,000 primary activities, lesson ideas and resources
Perfect for anyone working with children from 5 to 11 years old
Unlimited access – only £15 per year!
Subscribe
Already a subscriber? Sign in below.