Christine Kenworthy's school decided that rather than shy away from a sudden snowfall, they would embrace it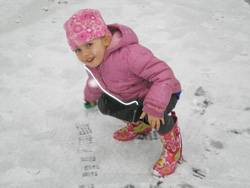 There is something quite magical about waking up to a white world, especially if you are five years old. After an overnight fall of snow, our Reception children arrived at school in varying states of excitement. It soon became apparent that there was no way they would settle into daily routines until they had been out to play. The morning's planning was quickly abandoned and replaced with an impromptu session of snow play.
It's a good idea to have a few activities and resources prepared, so that you can take advantage of unexpected snowfall before it either melts away or freezes and becomes impossible to play with. Ask parents to provide wellies and a bag of spare clothing to be kept in school. A stock of hot chocolate makes a nice treat for warming up afterwards! Here are some snowy ideas to try:
Use sticks or paint brushes to write names and letters.
Make patterns with stickle bricks, fir cones, and so on.
Provide buckets and spades, and sand toys.
Make snowmen, animals and buildings or use moulds.
Work together to make one big castle or sculpture.
Devise a maze or make pathways.
Draw arrow trails to follow or use twigs.
Use twigs, stones and fir cones to make patterns and pictures.
Look for bird and animal tracks.
Compare footprints or make footprint trails to follow.
Dilute powder paint and use a spray bottle to paint on snow.
Lay pieces of tissue paper on snow; the colour will transfer.
Half fill a plastic bottle with water and mark the level with a permanent marker. Leave to freeze, and then investigate why the level has changed. Fill an ice cube tray with water and add beads or plastic counters. Leave to freeze.
Look at snowflakes through a magnifying glass.
Find a suitable place to sledge and slide.
Log in to your account to read