These five humorous poems are all on the same underwater theme but are different in style and form. They include limericks, a tongue-twister, word play and both rhyming and non-rhyming forms. The collection is suitable for work on Year 1 Poetry Planning Unit 3 – Poems on a theme and Year 2 Poetry Planning Unit 3 – Silly stuff (humorous poems and poems featuring language play).
These teachers' notes accompany the PRINT ONLY guided reading leaflet in Literacy Time PLUS for Ages 5 to 7, January 2009.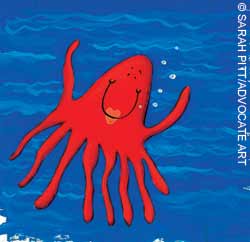 Before reading
Talk to the children about funny poems they have read and enjoyed or a poem you have read together.
Look at the pictures in the leaflet and read the titles of the poems. What is the leaflet about? Which poem do they think they will like best?
Reading the poems
Listen to the children read individually and support them to apply their phonic knowledge, reread for sense and explore the meaning of some of the less common phrases.
Choose one of the longer poems to share and explore as a group (eg, 'Octopus' – see ideas below), before letting the children choose one of the shorter poems to read independently.
Log in to your account to read