This non-competitive game, for up to four players, supporting oral storytelling uses a variety of settings, characters, scenarios and optional objects. The game could also be used to support planning for writing.
The printed version can be played with dice or using a home-made spinner. A spinner template is also available for you to download. The online version of the game has a virtual spinner.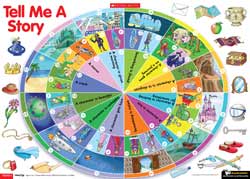 Before playing
Decide which way you wish to play the game from the options below, then explain to the children what they have to do. Model how to select a setting, characters and scenario and model how to use these to tell a story.
Playing the game
Basic
Play starts by focusing on the outside circle (settings). Players take turns to spin the spinner to select a setting for their story. (If using the home-made numbered spinner, match the number spun to the numbers on the board. If using the downloadable poster, a setting, scenario and characters will be chosen at random when the board stops spinning.)
Now the players take turns, spinning again to select two characters for their story.
Finally, players spin to select one scenario from the inner circle.
Log in to your account to read