Technical Development by Cambridge English Online Ltd
This on-screen resource allows children to practise sequencing skills in a practical, scientific context. They are invited to select equipment and sequence instructions for a floating and sinking experiment. They can then carry out a virtual trial experiment on screen and record predictions and results.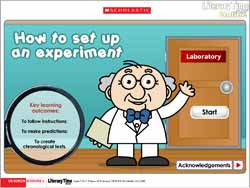 This resource is ideal for use before carrying out a real experiment on floating and sinking. Children can work individually or in pairs to support discussion.
Shared teaching and learning
Preparation
Find out what the children already know about floating and sinking. Talk about objects that need to float or sink to work properly – boats, surfboards, submarines. Ensure that all children understand and can use the terms floating and sinking correctly.
Talk about previous science experiments performed. Prompt the children to think about the process, decision-making and recording involved.
Collect the objects used in the experiment: a cork, plastic tub, carrot, egg, metal car, pencil and an apple. Allow the children to handle these before they record their predictions on the on-screen prediction sheet.
After the children have used the on-screen resource, they will need to have access to a range of objects and materials that they can use in their own practical experiments.
Log in to your account to read