Part 2 of our Paul Cookson poetry workshop features two short films. An audience with Paul Cookson captures a question and answer session with a group of primary school children while, in One step at a time, Paul explains his writing process and how he gets ideas for his poems.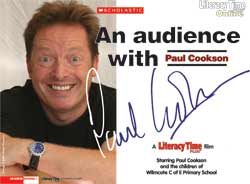 Both of these films can be used for discussion about why and how people write, and as a starting point for the children's own poems.
'Where do you get your ideas from?'
...is probably the question I get asked most when visiting schools. Well, poems can begin from anything – from the little things we all relate to: the way mum brushes your hair, grandad's habits, playing out – to the things that interest us most. It sounds simple but if we are interested in a subject then we are more likely to see it through and finish a poem. And I never go anywhere without a notepad, so I can jot down ideas as they come to me. I don't always write lots down and, because I travel a lot, I rarely start and finish a poem on the same occasion. Most are written over time.
How to begin
Start by listing ideas about your chosen subject – phrases you like, puns and wordplays, rhymes, anything really. The important thing is to write them all down – even the ideas you think aren't that good. Sometimes they're the ones you come back to in the end. Let the ideas flow. Go where they go. They may take you away from your original starting point but that's okay – you often end up with a better and more original poem that way. Ideas are like a row of dominoes – you knock one down and they all go down … one at a time.
Now look at the list and see which ideas jump out at you. It might be a phrase or line that could turn into something you repeat, or you might have a line/idea that needs to be at the end or the punchline, or a couple of lines that could be a chorus. Write these down. Say them out loud over and over to get the sound and feel of the words. Try them in different orders, using different rhythms.
Log in to your account to read