Cooking is on the ascendancy in schools. If you're worried about your culinary skills, it's time to join a free training class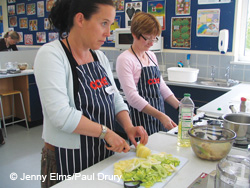 Cooking provides unique opportunities to consolidate learning from literacy, numeracy and other areas of the curriculum. Food in Schools Primary Training is a free continuing professional development (CPD) scheme, available across England. It trains primary teachers in how to provide practical cookery lessons in school and how to teach supporting information on food and nutrition to their children. It forms part of the national Healthy Schools programme, funded by the DCSF, and is designed to help schools meet two of the criteria for the Healthy Schools standard.The key aims are to:
increase teachers' confidence and competence in teaching about food and nutrition
increase children' experience of working with food
increase children' knowledge of diet, nutrition, healthy eating, food chain principles, food hygiene and safety
support the Healthy Eating core theme of the Healthy Schools programme
help raise the standards of achievement in food education
develop a supportive network between schools concerning food issues.
The workshops
Since Food in Schools first began in 2002, 3,000 primary teachers have been trained through the scheme, reaching over 75,000 primary school children to date. Two-day practical workshops are provided for groups of up to 15 primary teachers by one of 330 specially trained and accredited secondary food technology teachers. Attendees are usually D&T coordinators or headteachers, who then ensure that the programme is developed within their individual primary schools.
Areas on which the workshops focus include the QCA units Eat more fruits and vegetables, Sandwich snacks, Bread, and Biscuits (see 'A typical workshop' on page 20). Those attending the workshop are also able to review food education and policies in their own schools. By the end of the two days – which may run consecutively, as two separate days or as four 'twilight' sessions – primary teachers will have gained the confidence and skills to teach the QCA units of work without fear! They will also receive a certificate and become 'accredited primary teachers'.
A typical workshop
Log in to your account to read