Pancake Day doesn't have to involve mess and stress, take a look at these ideas for relaxing and having some fun!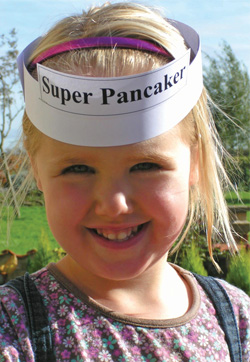 Don't worry if the thought of trying to fit in group after group of children making pancakes gives you that sinking feeling. Take a fresh look at Pancake Day with some fun activities inspired by the poem 'The Pancake Maker', written especially by Michael Rosen. Only one activity involves cooking – and in this one, you get the opportunity to join in the fun as you take on the role of fictional TV chef, Super Pancaker.
Pancake Day facts
Shrove Tuesday (Pancake Day) is the day before the beginning of Lent.
On Shrove Tuesday people traditionally use up eggs, milk and flour to make pancakes, before the beginning of Lent.
According to Christian beliefs, Lent commemorates the 40 days that Jesus spent in the wilderness. Christians may mark this by fasting or 'giving up' a particular food.
The Pancake Maker
English, Spoken Language: Ask relevant questions to extend their understanding and knowledge.
Make 'Super Pancaker' headbands before the session (it can be as simple as sticking or writing a label 'Super Pancaker' on a strip of card – see photo above). Read Michael Rosen's poem, 'The Pancake Maker', to the children. Discuss what happens in the poem, and tell the children some facts about Michael Rosen.
Read the poem again and teach the children the first verse, which is repeated twice more in the poem. Add actions as appropriate. Look for and enjoy the sounds of the rhyming words: beater/eater, maker/pancaker, kicks/mix, flour/hour, air/hair, done/one, fairy/hairy.
Talk about the fact that Michael Rosen has made up the word, 'Pancaker'. Why did he make up that word? Is it because he likes playing with the sounds of words? Is it because it fits in just right, meaning someone who makes pancakes and rhymes with 'maker'?
Encourage the children to choose a word from the poem and make up their own rhyming words. Give one group of children the Pancake Maker headbands to wear. Perform the poem in two groups; the Pancake Makers say the refrain. Support the remainder of the group as they join in with the rest of the poem, performing the actions.
TV Chef – The Super Pancaker
Subscriber-only content
Scholastic Resource Bank: Primary - subscribe today!
Over 6,000 primary activities, lesson ideas and resources
Perfect for anyone working with children from 5 to 11 years old
Unlimited access – only £15 per year!
Subscribe
Already a subscriber? Sign in below.