The National Year of Reading theme for November is Screen Reads, exploring the diversity of reading and writing. Here, two very special reviewers offer their thoughts on the film Horton Hears A Who. Why not use their writing to inspire your children to become young film critics?
During National Schools Film Week (taking place right now in Scotland). more than 405,000 children are being given the change to go to the cinema with their school.
The week is organised by the UK charity Film Education and is the only festival of its kind in the world.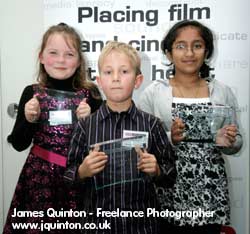 Ruby and Niva line up with six-year-old Mini Film Fan James Cave at the awards ceremony.
As part of the celebrations for NSFW, Film Education runs an annual competition to find the Young Film Critic of the Year. Budding young writers are challenged to write a review in 200 words.
The new 2008 Junior Film Critics (7 to 11 age group) are Ruby Daniels, aged 9, from Corpusty Primary School in Norfolk and Niva Rajendran aged 11 from Wallington High School for Girls in Surrey (in the sensory impaired category).
Log in to your account to read
Reviews