An interactive dictionary game inviting children to match 30 Space-themed words to their definitions. Complete with printable dictionary.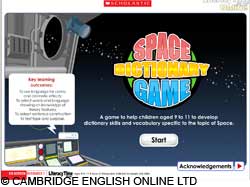 In this interactive dictionary game, players are presented with an alphabetical list of 30 words – all related to the topic of Space.
Clicking on a word will give three possible definitions. The alternative answers are designed to promote discussion.
A complete list of the words and their definitions, with usual dictionary conventions, is provided as an answer sheet/printable dictionary.
Sharing learning and teaching
Before using the resource
Challenge the class to create their own list of Space-related words. Discuss how to present this as a dictionary or glossary and define some of the words.
Discuss whether it is best to read all the instructions before playing a new game or to learn as you go along.
Log in to your account to read