Stunning poster by children's illustrator and political cartoonist, David Parkins, of The Beano, explaining how cartoon strips are made.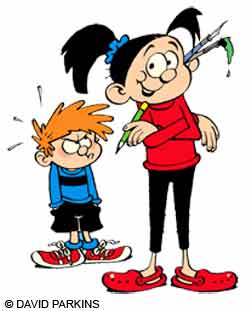 Shared teaching and learning
Before reading
Do the children read comics?
Who are their favourite characters?
Can they recall any typical character traits or catchphrases?
Shared reading
Discuss the layout and appearance of the poster, noting how the text exemplifies its subject matter and the traditional use of capitals. How do the numbers help? Which sections require extended inspection?
Invite individuals to read sections aloud. Note the informal, chatty tone.
Study the expressions in Frame 2 and invite adjectives to describe emotions on Bruv's face. Invite children to make faces that match Bruv's or show further emotions. Note the position of the eyeballs.
Identify the sub-headings in text boxes, separate from the call-out speech bubbles. How do these help identify and retrieve information? What does Ta-daa! mean? Why is it effective?
Invite children to read aloud the sound effects: Whump! Boomf! Are these real words? Discuss their onomatopoeic effect and think up others – old and invented.
Discuss the Tip logo. Would this appear in a story text? What is its function in an information text?
Log in to your account to read