With strong links to the Key Stage 1 science curriculum, this poster offers a basic explanation of where light comes from and how we see plus instructions for making a rainbow.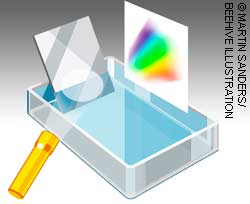 While there are a few technical words in this text that the children will need support with, the poster can be read during shared reading with Year 1 and 2. Year 2 children could use it independently to find out information.
Shared reading
Download the poster and use the

IWB

torch tool to reveal parts of it. Show headings, a diagram, bullet points, and a photograph. What sort of poster is it? What is it about?
What can the children remember about non-fiction texts?
Choose a section to read together. Remind the children to use phonics to sound out words.
Were any of the words new to them? Discuss one word. Can anyone explain what it means? Start a glossary.
Read the other sections through together, adding new words to the glossary as you find them.
Ask the children how we can use the text to find the answer to a question – eg, What is the main place light comes from? Model using the headings to find the answer.
Note down other questions that can't be answered using the text. Help the children to answer them by using books or the internet.
Log in to your account to read