Benefits of outside classroom learning supported by new package
2 October 2008
Add to My Folder
This item has 4 stars
of a maximum 5
Rated 4/5 from 1 rating (Write a review)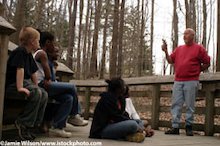 The Government is launching a new £4.5 million scheme to support outside the classroom activities, as a new report from Ofsted reveals children's achievement can benefit significantly from participation.
Learning outside the classroom: how far should you go? the new report from Ofsted, found that well-planned activities enhance children's learning and can re-engage those who are hard to motivate.
The report said that activities, such as trips to museums, visits to landmarks and after-school clubs increased children's involvement, enjoyment and achievement in their subjects. A study of schools' provision of these activities found that where young people experienced memorable events in their education, they didn't just remember the emotion and the excitement of the event itself but the learning that went with it.
In addition to raising academic standards, activities such as volunteering were shown to have a positive impact on the social development of children in some of the survey schools, while work experience programmes or enterprise clubs encouraged innovation and creativity.
However, the Ofsted study also found that few teachers and headteachers are aware of the DCSFLearning Outside the Classroom manifesto, launched two years ago. Christine Gilbert, Her Majesty's Chief Inspector said: "The positive impact of learning outside the classroom is widely recognised, but unfortunately it is sometimes seen as an extra or a treat, rather than as an integral part of the curriculum."
Children's Minister Kevin Brennan welcomed the report, as the Government launched first ever national Learning Outside the Classroom National Conference and awards, plus a Quality Badge scheme for suppliers. He said: "We are glad that Ofsted agrees with us that high quality learning outside the classroom is a significant factor in raising standards and improving personal development."
The 'Out and About' package, launched this morning with £4.5 million of funding will provide schools with clear information to organise outside the classroom activities for their children, offering online guidance, advice and training to help school staff plan effective trips and activities.
The new Quality Badge scheme aims to cut paperwork for teachers by helping schools and local authorities identify organisations that provide high quality experiences and manage safety effectively. The first badges will be awarded next year.
Mr Balls said that learning outside the classroom should be integral to every child's school career: "It is wrong to wrap children in cotton wool as they grow up. Trips and getting out of the classroom should be part and parcel of school life and always form people's most vivid childhood memories."
He said that the fear of the compensation culture should be 'consigned to history'. "The bottom line is that teachers and parents should be confident in organising visits outside the classroom and no child should ever be denied educational opportunities because of it."
The first national Learning Outside the Classroom Award, rewarding outstanding provision in schools, colleges and early years providers has been awarded to Castlechurch Primary School in Stafford, with eight other schools winning regional awards.