'There is a grinding, unremitting marginalisation of the book and deep ongoing cuts in library services.'
Children's writer Alan Gibbons is launching the campaign against library cuts and closures, and the reduction in reading for pleasure in schools, with some 500 writers, illustrators, teachers, publishers and professionals pledging their support. Central to the campaign is a planned regional network of children's authors, teachers and librarians to raise the public profile of local cutbacks and closures.
'The Year of Reading has been very successful,' said Gibbons. 'It can't disguise however that there is a grinding, unremitting marginalisation of the book and deep ongoing cuts in library services. Every year should be the Year of Reading.'
Some 60 public libraries were closed last year and the number of professional library staff has fallen by 13% between 1995 and 2005, he said. In the most recent ten year period audited the book stock in public libraries fell by 26%.
'There are a range of worthwhile initiatives, such as Boys into Books, supported by Government. On their own, they are not enough. What we need is a national policy on reading for pleasure. Lots of people are in favour of such an approach but our response needs to be broader and more active than what we have at the moment.'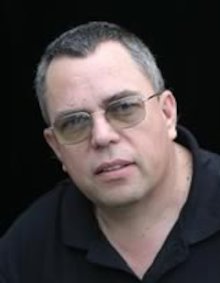 Award-winning children's author, Alan Gibbons.
Gibbons introduced a charter, The Campaign for the Book, at the CWIG (Children's Writers' & Illustrators' Group of the Society of Authors) conference held last weekend, and it has received almost 500 signatures so far, including David Almond, Philip Pullman, Michael Rosen and Beverley Naidoo.
Signatories to the charter pledge to campaign for the central place of reading for pleasure in society, including the defence of public libraries and librarians from attempts to cut spending, and a recognition of school libraries as key engines of learning. Gibbons plans to bring together organisations already campaigning against cuts and closures, including CILIP and the School Library Association, and to co-ordinate their activities with authors. Already, two major publishers and one trade union have signed up. Many more are actively considering the Campaign Charter.
Gibbons said: 'This is a very encouraging level of support in such a short time.' He will also work to get celebrities involved in the campaign and will lobby at government level.
Published 22 September 2008
Reviews
You need to be signed in to place a review.