Andrew Thraves previews a new scheme, coming to the UK this autumn, that could change the way schools support their children' development of literacy skills and which aims to give parents the tools they need to truly engage their child in reading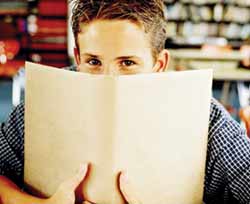 Simon is what some might call a typical ten-year-old boy. He loves motorbikes, he enjoys spending time with his friends and he doesn't always eat his vegetables at dinner time. Simon has another thing in common with many boys of his age. He doesn't like reading.
So what is a Lexile measure?
The Lexile (L) system enables book titles to be matched with appropriate levels of reading ability, spanning from below 200L for beginners and starter texts to above 1700L for advanced readers and titles. Lexile measures are based on the semantic complexity (the level of the words used) and syntactic sophistication (how the words are written into sentences) of a text. They do not determine the appropriateness of a book for a particular reader – that decision remains with the teacher or parent, who will know best which themes and styles of language are most suitable for the child.
A Lexile map, offering a flavour of the kinds of books at each level of the Lexile scale, is available to download below or from www.gl-assessment.co.uk/lexile While the Lexile measure is not associated with specific school year groups or ages, this map includes UK year groups as a gauge of how Lexile measures compare with traditional age-based reading assessments.
The Lexile Framework for Reading™ will be available from Sept 2008 as part of GL Assessment's Progress in English (PIE) Digital Tests for seven- to 11-year-olds. For more information on Lexiles, visit www.gl-assessment.co.uk/lexile or tel 0845 6021937.
Log in to your account to read
Reviews