Use the world of modern technology to switch children on to the delights of creative writing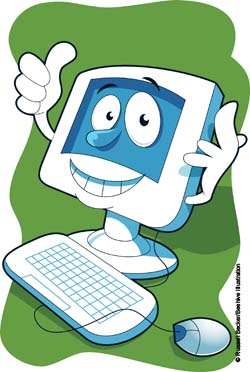 Free resources
Don't forget to download the free activity sheet, featuring an illustrated original poem, that accompanies these activities.
Poetry lends itself to a range of subjects and themes. ICT, for example, while full of technical instructions and hi-tech gadgetry, makes for a really creative poetry topic. How many times have we personified our PCs when things go wrong or claimed that they have a 'mind of their own' when 'the stupid thing won't do what its told'? Focusing poetry on ICT, specifically computers, can produce some highly amusing and creative writing from children – particularly because they can draw on their own technological experiences – many of which are far more extensive than the grown ups around them. Use the original poem on Activity sheet , 'http://computer-war-on-a-trojan.blog' and the version below, for the activities that follow.
Activities
1. A Trojan this way comes
Explain to the children that a 'Trojan', in computer language, isn't a virus, but what appears to be an innocent piece of software. It seems to do one thing, but actually does something mischievous instead. Once the service it offers is downloaded, it can cause problems or give the computer a virus.
Introduce the children to the Ancient Greek story of 'The Trojan horse'. A giant hollow wooden horse was left outside the gates of Troy. Believing it to be a gift, the Trojans dragged it inside their city. However, it was actually filled with their enemy's soldiers who emerged at midnight to kill the guards, open the gates to their army, and massacre the sleeping population.
Discuss the similarities between the story of 'The Trojan horse', and the tricks computer Trojans can play.
Log in to your account to read
Reviews