Chris Riddell is a man of many talents: illustrator, cartoonist, author and, with his groundbreaking new book, the saviour of children's reading.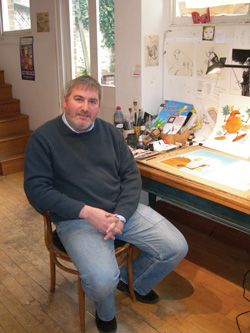 The talented Mr Riddell: his new book, Ottoline and the Yellow Cat, could revolutionise reading
To an outsider, Chris Riddell may seem a bit of an enigma. An award-winning children's illustrator, The Observer's political cartoonist, and the other half of an incredibly successful writing duo with Paul Stewart; it's difficult to know what to make of the man before meeting him.
When we do meet, it's in Riddell's studio, a converted coach house at the bottom of his garden in Brighton. I find him armed with a paintbrush and hairdryer, hard at work on a characteristically quirky picture book, about a mouse who builds robots. He is, he tells me, 'rather busy right now'.
This is somewhat of an understatement, given that he's just completed one book, is finishing the artwork on another, leaves for America in a week on a promotional tour ('I feel like bloody Charles Dickens!'), and has God knows how many projects awaiting him on his return. Oh, and let's not forget his weekly cartoon. Doesn't he ever get overwhelmed?
'I have brief moments of wild frenzy,' he concedes. Yet he doesn't sound frenzied. In fact, it's becoming clear that this is a guy who takes life in his stride.
Log in to your account to read