Shirley Hughes is one of Britain's most respected and trusted illustrators.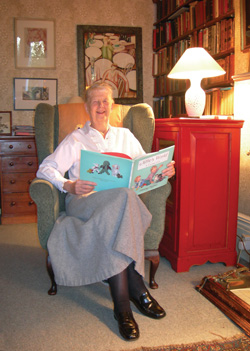 Here comes Alfie: Britain's favourite little boy made his debut appearance in 1981 with Alfie Gets in First. This paved the way for a dozen more titles
I am standing in the hallway of Shirley Hughes' Notting Hill town house, listening to her husband tell me that there's been a mix-up. 'Oh dear, Shirley thought this was a phone interview. She's not up. Do you want to make yourself a cup of tea, while I tell her you're here?'
He's in the process of showing me where the milk is kept, when Hughes glides into the room. She is taller than you would think and exudes an almost startling amount of elegance and warmth. In less than a minute, she has the situation under control. There hasn't been a mix-up, her husband has got it all wrong, and I really shouldn't be making my own tea. I'm immediately offered a cake, or a sandwich if I'd prefer, and shown through to the drawing room. It's like having tea with the grandparents; I'm enjoying myself already.
Log in to your account to read