This non-fiction text provides children with simple information about some well-known and other, less familiar, dinosaurs. The information explains how different parts of their bodies were adapted for their survival. It includes a contents page and headings.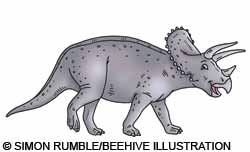 These teachers' notes refer to the guided reading leaflet , 'Dinosaur body bits'.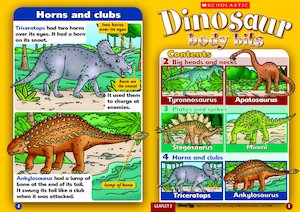 Previous learning
Children would benefit from some knowledge of a range of dinosaur names, particularly knowing that many end in 'saurus'. Read Leaflet 1 to the children during a whole-class session to support this. To support decoding, children need to be able to recognise split digraphs and common spelling patterns from a range of long vowel phonemes.
Key learning outcomes:
To reconise alternative ways of spelling phonemes – eg, ee, ai (Year 1);
To find specific information in simple texts (Year 1);
To create simple information texts (Years 1/2);
To use phonics to read/spell words that are not completely decodable (Years 1/2);
To explain organisational features of texts (Year 2).
Log in to your account to read