Help shape children's love and understanding of poetry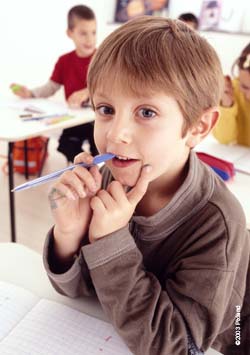 Introduce different types of poems to children
Free resources
Don't forget to check out the Interactive resource , 'Aquarium' (subscribers only) and 'Poetry' activity sheets. A printed version of the 'Aquarium' poster is available with the July '08 issue of Junior Ed PLUS.
Poems have been part of the culture of many lands for centuries. They appear in the Bible, on Ancient Greek artefacts, Viking runes and Victorian copperplate. Poems have been penned, carved or typed by the likes of Shakespeare to the Sugababes, and can grace greetings cards and gravestones. We sing them in karaoke and in church, use them in advertising, as memory joggers and to express everything from anger to adoration. Yet many children see them as 'soft' or 'old fashioned' and a lot of teachers see them as difficult.
The following ideas, supported by the 'Poetry' activity sheets aim to help you address and use poetry in a variety of fun ways.
Activities
1 Favourite words
Ask the children what poetry is made of. Elicit that it is made of words – and just like someone who doesn't enjoy swimming if they fear water, children will need to learn to love words before they will want to build poems. In pairs, let them discuss and list words they like and dislike and try to pin down why. Is it association, the sound itself, or some other reason?
Log in to your account to read