Read about one school's World War II themed take on personalised learning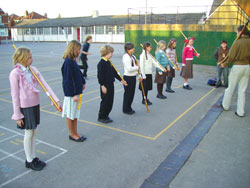 The aim at St Mark's Church of England Junior School in Southampton is for children to be 'wowed' by their curriculum. The whole school has taken on board an approach of planning exciting half-termly modules, achievable by all children. The planning is based on the Every Child Matters agenda. By adopting a more personalised approach, learning is being supported effectively. Barriers are being tackled and the curriculum is now allowing children to reach their potential. Therefore, standards are improving and the wow factor is enriching learning. In this article, Year 5 teacher, Rajani Arora, shares the school's vision and planning that's making the curriculum personal, and takes us on a behind the scenes look at what it took to prepare a fantastic WWII module.
'The key drivers for St Mark's is standards, inclusion and community learning. The school is proud of it's international community, which consists of families from Israel, Asia and Europe, as well as parts of the United Kingdom. All of the children are inner-city dwellers, many new to this environment and location. One of our aims is to provide opportunities that allow all of the children to be proud and fascinated by what lies around them. We strive for them to be more independent and provide opportunities for children to lead, explore, research and enjoy the city on their own, and with families and friends.
Making it personal
By adopting a more personalised approach, children are being supported effectively in developing skills and attitudes which are transferable, and which encourage independence, communication skills, emotional engagement, spirituality and creativity. The staff are enjoying their opportunity to reduce paperwork, encourage purposeful talk, dissect the important skills required for the children into manageable chunks and deliver what is important to them and the children – notably the skills for life – skills to remember, understand, apply, analyse, evaluate and create.
Underpinning the curriculum development has been a commitment to our learning visions, from which we will develop a set of competencies for each year group by the end of the year. Literacy and maths workshops focus on the skills that the children will need to pursue, and of course, their own individual interests, which steer their learning for the module.
Bringing history to life
As part of the school's aim to develop the wow factor, we wanted to develop a Blitz-themed module that would pull on local resources and offer children personalised learning opportunities. The Year five team decided to base a module on WWII. We set up literacy workshops that involved teaching empathy, deep inferential thinking and drama around two texts – Carrie's War by Nina Bawden (Puffin, £6.99 PB) and Goodnight Mister Tom by Michelle Magorian (Puffin, £5.99 PB). The children in the medium-term workshop planning were given opportunities to role play various characters and to observe, read and analyse documents, such as letters and newspapers. All of the children had the opportunity to write in the style of a variety of genres, alongside researching and writing a WWII project.
Sustainable curriculum
The aim of the Blitz module was to produce a template that would provide an on-going, expanding and sustainable cross-curricular event for Key stage 2 children, year on year. Discussions over a period of four months between our school and our main secondary feeder school, Regents Park Community College, took place to develop links through drama and enterprise education. A key element in all of the planning was to build in 'what' and 'if' opportunities, to allow the children to get into role and imagine what it might have been like to have been on a farm, in the army, fighting, or simply to have been a child at a city school in the Blitz. What would it have been like to have had reduced rations, and no ipod®, lighting or TV?
The aim of the day and the events leading up to it, was to provide children with an event that took them out of school life and transported them to another period in history. We therefore arranged trips and events for the children and their families – including a visit to a farm, museums and a walk – family workshops and a sleepover in school. The basis of each trip was to allow the children to be evacuated, without knowing where they were going. Although there were some hesitations regarding the unfairness of some of the children going on better trips then others, it was decided that the element of the awe and wonder of 'not knowing' would be the strength of the day. Parents were sent letters with information about where their children would be travelling to. The parents supported the letter's request to not divulge to their children where they were being evacuated to. The whole point of this wow factor was to discover the location upon arrival, just as evacuees would have done.
Subscriber-only content
Scholastic Resource Bank: Primary - subscribe today!
Over 6,000 primary activities, lesson ideas and resources
Perfect for anyone working with children from 5 to 11 years old
Unlimited access – only £15 per year!
Subscribe
Already a subscriber? Sign in below.