Forget pretty pictures! Give children paper, paint and a place to create and just let them be spontaneous
American artist Jackson Pollock (1912-1956) is well known for his large-scale 'drip' paintings in which he dripped, poured or splattered paint onto canvases on the floor. He was a pioneer of Abstract Expressionism, belonging to the group of so-called 'action painters'. Painting in this style liberates children and gives them freedom to just enjoy the painting experience, working spontaneously and without worrying about creating realistic images.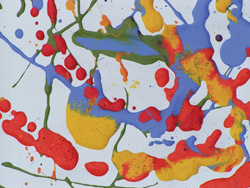 Splat attack: children will love painting in the style of Jackson Pollock!
Getting inspired
Make a collection of objects that children could use to apply paint to paper. Include straws, brushes, squeezy bottles, a watering can and plant misters.
Look at images of Jackson Pollock's work, such as Number 6 or Blue Poles (Number 11, 1952). Explain that Jackson Pollock's paintings were often very large – big enough to cover a wall – and so he painted the canvases on the floor.
Ask the children to try and work out how the artist created his paintings. Did he draw a picture and paint it with a brush? Invite them to think of items that they could use to create drip paintings without using a brush in the conventional manner. Pool your ideas and show the children the selection of objects you have already collected.
Explain that you want the children to use Jackson Pollock's work to inspire them to create their own paintings. Give them time to try out their ideas on A3-sized paper, using ready-mixed paints or powder paints, mixed to a runny consistency.
Encourage the children to look at each others' work and talk about what they achieved. Which methods of applying paint were most successful? Which effects do they like the best?
Explain that now they have all experimented on a small scale, the children can work on a large scale. Cover an area outside with plastic sheeting, and on it place several sheets of A1-sized cartridge paper stuck together. Provide plenty of paints, and let three or four children work on the painting at a time.
Log in to your account to read
Reviews