original article published 29 May 2008
Extend your World Book Day celebrations with these fantastic ideas that will enable children to explore books in a variety of new ways.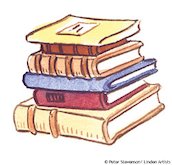 Introduce World Book Day to your class with these practical creative ideas that relate to every area of the curriculum. Many of the activities lead towards making books, and you will find accompanying templates linked to this article (see below).
1. Here's one I read earlier
Children who struggle with literacy may sometimes forget the reasons why we persist in teaching them to read! A key theme of World Book Day is the idea that books are to be enjoyed throughout our lives. One way of reinforcing this idea is to plan an assembly where the teachers present to the school a selection of books that are of particular personal value to them. It might be a novel that changed their lives or a childhood treasure that still lingers with them today – either way, a school assembly devoted to a celebration of books is a great way of launching a World Book Day celebration.
2. Whose line is it anyway?
Log in to your account to read