Find out how and why Jewish people celebrate this special festival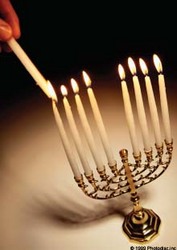 What is Hanukkah?
Hanukkah is a Jewish festival that takes place in December that was established by Judas Maccabaeus in 164BC to ensure that Jews would remember the triumph of the rebel Maccabees and the miracle of the enduring light that followed when they rededicated the desecrated temple in Jerusalem. The focus of the eight-day celebration is the lighting of eight candles on a traditional branched candlestick, a hanukkiah.
Why is Hanukkah celebrated?
For Jewish people, the event that initiated Hanukkah encapsulates one of the recurring themes of their history, their struggle for liberation in the face of oppression. Time and again they faced persecution, even annihilation, but have survived as a nation.
In 167BC, furious at their rebellion, King Antiochus IV of Syria marched through Judea savaging the Jewish people. He had forbidden them to practice their religion and live according to Jewish customs. Disobedience was punishable by death. He desecrated the temple in Jerusalem, insisting that it was dedicated to the Greek God Zeus. For three years, a small group of Jews led by Judas the Maccabee fought back. Although they were outnumbered, they triumphed against all odds and eventually reclaimed the Temple. They marched through Jerusalem and entered the temple on the 25th day of the month of Kislev. The Temple was cleared of statues and the Jewish priests began the Festival of Rededication declared by Judas. By the altar in the temple was a great oil lamp known as the Eternal Lamp symbolising God's presence. This was lit using the last remaining jar of oil, which only contained enough to last one day. Miraculously the lamp continued to burn for the full eight days of the festival, until new supplies arrived. Thus light is used as a symbol of spiritual liberty, which is at the heart of this festival and of Jewish life.
How is Hanukkah celebrated?
Log in to your account to read