Access your exclusive free online software and launch your own classroom archaeological dig of a Roman villa!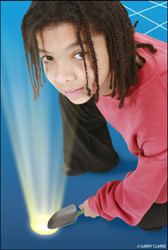 Channel 4's Time Team has raised the profile of archaeology enormously over the last 15 years or so, debunking the image held by some of an arcane and dusty (metaphorically as well as literally) subject practised by elderly academics. It has brought reality into our living rooms. Time Team is not just popular TV, it has served an educational purpose by clarifying what archaeology involves, from locating sites, to digging trenches, excavating, cleaning and identifying artefacts.
Preparation
To maximise the potential of this online resource, it is really important that teachers spend a little time familiarising themselves with all its features before introducing it to the children (see Your FREE interactive software, overleaf). Photocopy and laminate enough Artefact and Expert Opinion sheets (see back of A2 poster) for each group. Children should not be given the Expert Opinion until they have completed their record sheets. You will also want to display the artefact photos on the A2 poster. For group work, it would be more effective for these to be cut out into separate cards. Also photocopy enough record sheets for the class.
The National Curriculum for England requires children to learn about history partly through enquiry – incidentally the Greek meaning of history is enquiry – involving, among other sources, the use of artefacts. However, do we always teach children where these artefacts come from? Yes, they see them in museums, they handle them in the classroom from LEA or museum loans, but do they appreciate the origin of these objects and how they have been found?
Taking children to visit an archaeological site is largely impractical, but you can do virtual archaeology in the classroom. The Virtual Dig provides an opportunity for children to consider how archaeologists work, to use artefacts as part of an historical enquiry, and to interpret evidence. This will take more than one lesson to complete, depending upon the availability of computers and adult help.
Prior knowledge
Log in to your account to read
Published 3 June 2008
Reviews
This item has 5 stars
of a maximum 5
Rated 5/5 from 49 ratings
You need to be signed in to place a review.