Landscapes are all around us – and landscape is an interesting theme for both famous and pre-school artists to explore. Get your children thinking about colour and texture with these brilliant activities.
To accompany the activities below, we have put together a slideshow of the various paintings mentioned. We also have a Landscapes at home resource that parents can use to continue their child's learning beyond your setting. There's also a My favourite landscape painting worksheet that children can fill in with an adult scribe, and – best of all – Hilary White has provided us with detailed planning notes to support the activities. They include 'Development Matters' pointers, Early Learning Goals, Effective Practice suggestions and ideas for what to look out for when you're observing the children. These notes really are an invaluable resource.
Landscapes have lots of different features, including mountains, forests, fields and skies. Landscapes are also dominated by weather and provide a setting for lots of interesting activities. Landscape is a popular art theme and famous paintings make a great starting point for exploring the colours, textures, features and purposes of different landscapes. Try the following activities with your children and open their eyes to the world around them.
MINI LANDSCAPE SETTINGS
Prime area: Personal, Social and Emotional Development
Aspect: Self-confidence and self-awareness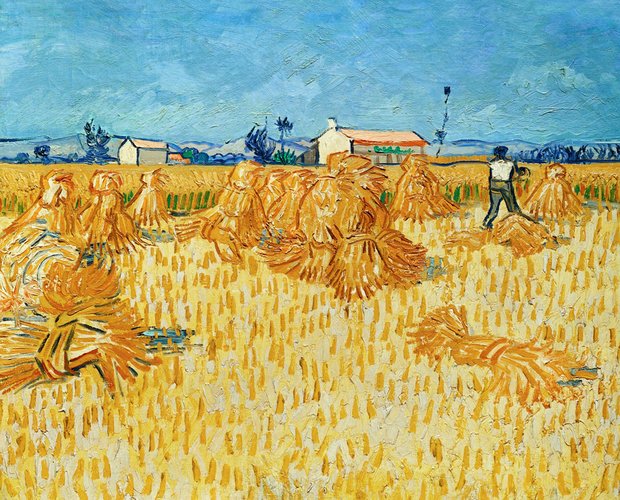 Choose some landscape paintings to look at, such as Vincent Van Gogh's The Harvest.
Study the painting with the children and talk about the features – the spiky green fir trees, the hay stack, the green and yellow fields, the wooden fence in the foreground, the mountains in the distance.
Focus on the colours and shapes in the painting, and link the features with the children's own experience of visiting the countryside.
Gather together resources to reflect the features of the painting, and encourage the children to create their own miniature landscape settings in the sand box. Resources can include pieces of green scourer for trees and bushes, bundles of hay, twigs, stones and pebbles, strips of corrugated card to make fences, pieces of green and yellow felt for fields. Photograph the landscapes as a record of the children's creations.
Subscriber-only content
Scholastic Resource Bank: Early Years - subscribe today!
Over 2,000 early years resources, activity ideas and games
Perfect for anyone working or playing with children from 0 to 5 years old
Unlimited access – only £15 per year!
Subscribe
Already a subscriber? Sign in below.