Prepare to laugh out loud with this selection of comedy books
The Quigleys by Simon Mason (Yearling, £4.99 PB)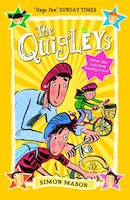 Suitable for: boys; girls; younger readers; older readers; reluctant readers; reading aloud
'Meet the craziest family ever!' implores the cover flash, but such a claim does the Quigleys a disservice. The brilliant thing about them is that they're largely normal; no stilted, sent-up stereotypes here, just a preoccupied family of four who squabble, love and wind each other up, while stumbling through each day's dreams, disasters and delights – much as we all do. The four short stories in this volume warmly celebrate the chaos of family life, and are told with charm, humour and real insight into the motivations of children and adults alike. Essential reading for everyone in the whole world!
Why eating BOGEYS is good for you by Mitchell Symons (Doubleday, £7.99 HB)

Suitable for: boys; younger readers; older readers
This absorbing anthology of unlikely information is a real treat – FACT. If only I'd owned it as a boy, I could have proved triumphantly to know-all adults things I'd only previously suspected. Eating celery is futile; you won't immediately drown if you don't wait for a meal to be digested before swimming; a coin dropped from the top of a skyscraper can't kill someone; you can drink pig's milk, and so on. The answers are explained expertly and entertainingly and leave your brain stuffed with absurd trivia. If you want to know who wrote the 'Happy Birthday' song or where the word 'bonfire' comes from – then buy this book!
Toonhead by Fiona Dunbar (Orchard, £5.99 PB)

Log in to your account to read
Reviews