Music: If you cannot teach me to fly, teach me to sing!
19 May 2008
Add to My Folder
... so wrote the author of Peter Pan – J M Barrie. Now there's someone who'd grasped the power and pleasure of singing!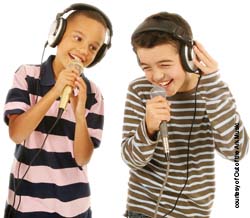 Musical publisher and production company, Out Of The Ark Music, was established on this same conviction. Here, they explain how singing is something to be actively promoted and facilitated in schools:
'In our own experience, singing has been all too often overlooked, undervalued and shied away from. Children were often made to perform patronising, poorly written songs ('It's only a children's song'), while at the same time, already overstretched teachers mostly felt inadequate to even tackle singing, let alone try and work creatively with it. For those teachers, getting children to sing felt about as achievable as teaching them to fly! But now, the Government's Music Manifesto campaign to 'put singing back into schools' has begun and the momentum for singing is rising.
Singing all day long
Out of the Ark Music's latest songbook and CD collection, Songs for EVERY singing school, seeks to harness and facilitate some of this current enthusiasm for singing. Like the other resources in the Songs for EVERY series, Songs for EVERY singing school aims to inspire children and empower the classroom teacher. It covers familiar and relevant assembly themes, and also provides songs for use in the classroom (taking the register, tidying up, and so on). After all, why restrict singing to a short assembly 'slot' in the morning? With the right materials, a degree of willingness, and a medicinal dose of regularity, singing can actually become an integral part of daily classroom routines and a dynamic feature of school life.
Log in to your account to read