Encourage being active and eating a balanced diet to help promote a healthy heart – with activities and FREE online resources!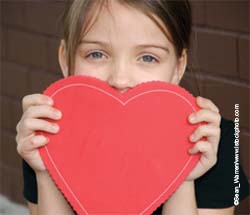 Encourage children to take part in physical activity to help promote healthy heart

During a PE lesson or breaktimes, when children are running around and letting off steam, the heart works hard to keep the blood pumping to get oxygen to the muscles. Although children might feel the effects of exercise on the body, in the form of perspiration, breathlessness and racing hearts, they might not properly understand what's going on inside.
In its ongoing campaign to reduce heart disease, the British Heart Foundation (BHF) has produced a fantastic teaching resource, The Big Heart Exploration (see www.bhf.org.uk/teachers), to help children learn the importance of exercise and a good diet for a healthy, happy heart. The CD-ROM, which is packed with activities, as well as teachers' notes, a library of images, PowerPoint® presentations, activity sheets and supporting BHF material, takes children on an interactive journey inside the body, explaining how their heart works and how to keep it healthy.
Free resources
Don't forget to download the fantastic free resources from the British Heart Foundation.
Log in to your account to read
Reviews