Discover how Yoga at School has helped children with SEN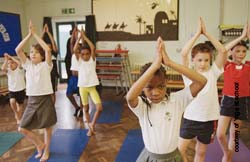 Yoga is perfect for including SEN children within whole class activities
Facing a class of 30 primary school children, Yoga at School teachers are presented with a range of different abilities. Here is the story of Anita, who is as much part of the yoga class as anyone else.
As you read her story, consider: What is the likelihood of Anita attending an after-school yoga club? Where will Anita feel safest, supported and included?
Background
Anita, who has spinae bifida, is a Year 4 child at a mainstream primary school in Essex. Anita transfers from her wheel chair to her walking frame before the yoga lesson and is assisted by her learning support assistant. Anita can support herself on one leg within the safety of the frame, holding on with one arm. She can also sit and support herself on the yoga mat independently. She is highly intelligent, articulate and a very determined child.
I have been teaching Anita and her class for three years. Over that time I have seen her posture work improve, especially her balancing and her confidence soar.
Log in to your account to read