This interactive, 'Call my Bluff'-style dictionary game allows children to define 30 words related to the ancient and modern Olympic Games. Clicking on a word will give three possible definitions. Choosing the correct or incorrect answer will produce a different sound. A complete dictionary of all the words and definitions, with usual dictionary conventions, is provided as an answer sheet.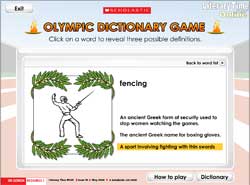 Sharing learning and teaching
Preparation
In pairs, think of words related to the Olympic Games. Share the lists and ask for definitions. Discuss creating a glossary or dictionary.
Explain the rules of 'Call My Bluff' – one word with three definitions. The aim is to find the correct meaning.
Sharing the resource
Share read the introduction – 'How to play'. Note the imperative. Pick out the key instructions to get started.
Divide the class into teams, each choosing a spokesperson. Play in turn as a class: each group choosing a word and suggesting a definition, while others discuss if they agree. Give reasons to back up views.
Demonstrate how to check answers.
Log in to your account to read
Reviews