This multimedia resource features an audio interview with Olympic gold medallist Dame Kelly Holmes, in which the questions are asked by children together with an accompanying biography. There is also a link to a video of Dame Kelly winning her two gold medals in Athens in 2004.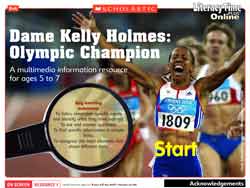 Before using the resource
Introduce the Olympic Games by making a display of events and competitors, past and present, including Dame Kelly Holmes. Explain that the Games are held every four years in different countries.
Visit the website for the 2012 Olympic Games for information about the London Olympic Games.
Provide non-fiction books about the Olympic Games and athletics.

Speaking and listening
Before listening to the interview
Talk about the sports children have watched on television or in real life. Share children's likes and dislikes.
Discuss whether they have heard sports reports or commentary on the radio. Compare listening to this information to watching it.
Watch the film clip of Dame Kelly Holmes racing, then discuss what the children would like to find out about her. Make a list of their ideas.
Discuss appropriate questions related to her achievements and those which would not be appropriate.
Log in to your account to read