Enter the world of the surreal to and let children's imaginations run wild
Spanish painter and sculptor, Joan Miró (1893-1983), is well known for his surrealist and abstract works. Here we use one of his pieces, The Nightingale's Song at Midnight and the Morning Rain, as a starting point for children's thinking, discussion and artwork. Children have the opportunity to use clay to create a simple tile. They draw their designs onto the surface of the clay and paint the tile when it is dry. If you have access to a kiln, the clay can of course be fired and glazed.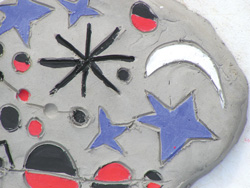 Getting inspired
Look together at the work of Joan Miró (examples can be seen by typing his name into Google Images). Focus in particular on The Nightingale's Song at Midnight and the Morning Rain.
Ask the children if there are any images in the picture that make them think of night-time. Can they see any moon or star-like shapes? Talk about the other shapes used, including triangles, circles and rectangles.
Examine the lines in the picture. What colour does the artist use for the lines? Look for examples of zigzag, wavy and straight lines, and the use of spirals. Challenge the children to find lines that are used to join or cut through shapes.
Invite the children to work with a partner and use black felt-tipped pens to draw examples of the shapes and lines that they see in the picture. Pin the drawings on a board and encourage positive discussion of each others' drawings.
Explain that you want the children to use Miró's work as a starting point for their own artwork. Stress that instead of drawing on paper, they will be creating a clay tile and drawing and painting on that. Demonstrate the steps shown opposite to teach the technique of preparing the tile and drawing onto clay.
Encourage the children to be creative in their own ways. Make it clear that you value their own ideas and creativity and do not want them to copy your example, thinking that is the 'right' way to do it.
Log in to your account to read