Go for gold using the art nouveau work of Gustav Klimt
Art Nouveau (French for 'new art') describes a highly decorative style in art that emerged in Western Europe in the late 19th century. Here we look at one of the works of Austrian painter and designer Gustav Klimt (1862-1918), a forerunner of this movement. The painting, Portrait of Adele Bloch-Bauer I, has been chosen as a starting point because of its decorative nature and the use of gold. This painting and other examples of Klimt's work can be seen by searching on Google Images. (Please note that if showing other examples, select them carefully as some are not appropriate for young children.)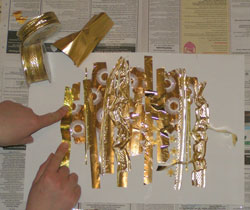 Getting inspired
Look together at an image of the painting, Portrait of Adele Bloch-Bauer I. Ask the children for their first impressions. How would they describe the painting? What is the main colour used?
Encourage the children to look for different shapes and patterns that Klimt has used. Can they find circles, spirals, squares, triangles and 'eye shapes'? Create a class observations sheet, inviting children to draw examples of the patterns they see. Talk about and name the shapes.
Explain that you want the children to use Klimt's painting as a starting point to inspire them to experiment in drawing patterns. Say they can use gold, silver and other shiny materials available to create their own designs.
It is not necessary to make finished products. By introducing children to the different media and allowing them time to experiment and be creative, you give them a joyful experience that they can draw on in other artwork.
Log in to your account to read
Reviews