Explore three creative activities inspired by May Day using music, dance and drama ideas.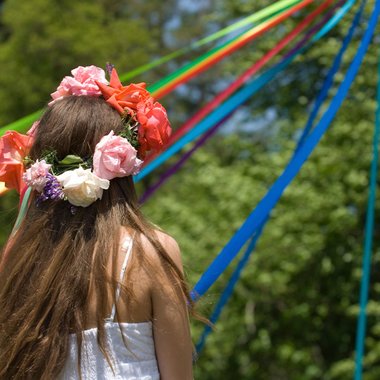 In the merry month of May
What you need:
Garden wire, bells, bottle tops, pink tissue
Tambourines, drums, tin lids, plastic trays, beaters
A big drum
Group sizes:
Small groups to make garlands
Whole group for singing and instrument work
Areas of learning:
EAD: Exploring and using media and materials – Children sing songs and make music and dance, and experiment with ways of changing them.
Starters
Nuts in May
Learn this traditional May time rhyme and sing to the tune of 'Here we go round the mulberry bush:
Here we go gathering nuts in May,
Nuts in May, nuts in May.
Here we go gathering nuts in May,
So early in the morning.
The nuts referred to in the song were most likely 'earthnuts' which are tasty tubers loved by pigs and snuffled out of the ground by them. Another interpretation is that the rhyme should read 'knots' in May and refer to hawthorn blossoms.
Blossom garlands
Make small garlands of blossoms for the children to use as they sing. Use circles of garden wire and attach twists of pink tissue, metal bells or bottle tops to create musical garlands. Ask the children to shake these and pass them around the circle as they sing the song together.
Log in to your account to read