Stimulate a growing curiosity of the natural world using the contents of your kitchen cupboard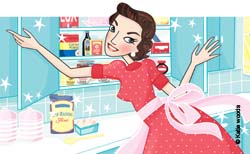 Raid the larder this month for a selection of foodstuffs and kitchenware that will help children to appreciate the importance of plants. Germinate edible seeds to support their understanding of flowering plant life cycles and use food dyes to demonstrate how water travels inside stems and leaves. Investigate plant growth to develop children's skills in scientific enquiry.
Germinating seeds
Learning objective: To investigate how seeds germinate.
You will need: dry seeds such as cress, chick peas or alfalfa (Note: packaged garden seeds are often treated with chemicals, so dried beans intended for human food use are safer to handle); same type of seed after it has germinated; magnifiers; container; kitchen roll and the first and second of the 'Kitchen cupboard science: plants' activity sheets 'What's in a seed? and 'Watching it grow'.
To enable seeds to germinate in time, begin the process a week before the lesson. Place a selection of your chosen seeds into a container lined with damp kitchen roll. You will need to keep the kitchen roll warm and moist.
In the classroom, discuss where plants come from. This could link in with previous work on seed formation and dispersal, or be a starting point for a topic on the life cycle of plants. Show children the sample of seeds prior to germination and ask them to use magnifiers to make careful observations.
Encourage them to describe the texture, size and colour of these seeds.
Repeat the activity with the germinated seeds and point out the beginnings of any roots, shoots and leaves. Children can then complete the first and second of the 'Kitchen cupboard science: plants' activity sheets 'What's in a seed? and 'Watching it grow' describing differences and similarities and making observational drawings.
Ask children to plan a fair test to find conditions needed for germination, and experiment using more dried beans. The seeds which have already germinated can be used to test factors affecting plant growth – such as light, warmth and water – and provide ample opportunity for measurements, tables and graph work.
Challenge the children to try germinating fruit seeds at home, or bring in unusual seeds – such as avocado stones – to grow in class. Always ensure children wash their hands after handling any seeds or plants.
Subscriber-only content
Scholastic Resource Bank: Primary - subscribe today!
Over 6,000 primary activities, lesson ideas and resources
Perfect for anyone working with children from 5 to 11 years old
Unlimited access – only £15 per year!
Subscribe
Already a subscriber? Sign in below.