This is the first in a two-part resource by Kevin McCann providing writing frames for different kinds of conversation poems. This month we offer you two frames: 'Who ate the pie?' based on the traditional rhyme 'Who Killed Cock Robin', and 'The Story Book', a fantasy based around a magic book. Both use the Question and Answer structure.
The May issue of Literacy Time PLUS Ages 9 to 11 features three more inspirational poetry frames. Click here to read more.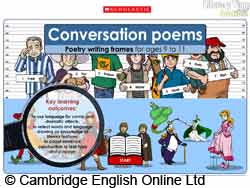 Shared learning and teaching
Before using Level 1
Level 1 uses full-rhyme. Emphasise the importance of sense as well as sound in rhyming poetry.
Play 'Rhymers' – write a word on the board, then give the class five minutes to list as many full rhymes as they can. Alternatively, work in teams. Give each team a word and a time limit.
Before using Level 2
Explain to the class that they are going to write free verse – a poem which does not have a regular pattern or rhyming structure.
Discuss favourite stories. Include film and television references as well as mentioning stories which use the 'door to another world' device, such as Narnia, Alice in Wonderland and Tom Riddle's diary in Harry Potter and the Chamber of Secrets. Which character, from all the stories they know, would the children most like to meet? Where would they most like to go?
Log in to your account to read