Elsa's family have hit hard times, lost their house and have had to move into an overcrowded bed and breakfast hotel. She is teased about this at school. Elsa's way of coping is to tell jokes and make everyone laugh. She dreams that one day she might become a big star and entertain even more people.
This extract comes from about halfway through The Bed and Breakfast Star by Jacqueline Wilson, from a chapter called 'Pizza and Porky-Pies'. Elsa's teacher (who has previously been overheard referring to Elsa as 'just one of those bed-and-breakfast children') has asked Elsa to write a story about herself. The picture Elsa paints is of a life rather more blessed than her own, in which all of her family have 'showbiz' connections.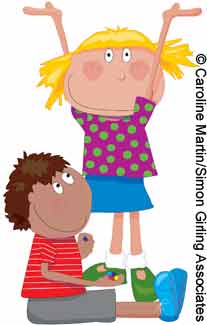 Before reading
Explain the context of the extract.
Check children's understanding of 'bed and breakfast' and its implications to family life.
During reading
Invite group members to take turns to read the text aloud, a paragraph each.
Help children to break down longer words into syllables, reminding them that ia is not a digraph, but two separate sounds in humiliating.
Encourage children to make inferences about the narrator from her description of events. Eg, what does 'march …back to the Infants' tell us about the narrator's age; some children 'ran for cover' when she sang – why?
Underline emotive verbs (eg, march, shoved). What does the use of such words imply about Elsa's state of mind (reinforcing the 'edgy' feeling of the first sentence and of her feeling out of place)?
Compare the use of 'little' (story) by the teacher and then by Elsa. What effect does this adjective have in each case? (Sounds patronising; shows Elsa's sensitivity to the teacher's condescension.)
Look for Elsa's use of 'dead' as an emphatic adjective: dead convincing; dead impressed.
Challenge individuals to define elaborate (the verb), deterred and expressions like, 'into the bargain' and 'tempting fate'.
Log in to your account to read