This poster for the Horrible Histories stage show features persuasive language and advertising techniques such as eye-catching design and recognisable images. It links with Y4, Unit 4, Persuasive texts in the Literacy Framework Planning Unit for Non-fiction. An additional text – a leaflet for the Horrible Histories bus tour – is available to download here.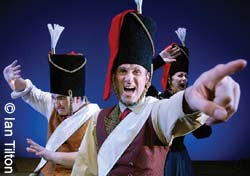 Birmingham Stage Company's productions of Terrible Tudors and Vile Victorians
Shared learning and teaching
Before reading
Suggest ways in which people try to persuade – eg, discussion, argument, advertising – or advertise – eg, TV, magazine, posters. What are the advertisers trying to do? Discuss successful advertising posters.
Shared reading
Introduce the poster and share immediate reactions. Was it instantly recognisable? What parts were they drawn to? Are they keen to read the smaller print (are they 'hooked')?
Ask individuals to choose sections to read. Encourage dramatic reading to emphasise the persuasive nature.
Log in to your account to read