Brush up on children's stitching and papercraft skills with these sweet and simple gifts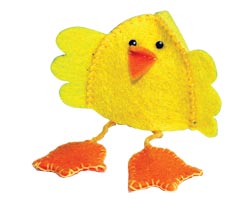 Easter chick egg cosy
This simple sewing project will develop skills of pattern cutting and stitching. Any stitch can be used, but a whipping or blanket stitch work well. For a simpler activity, glue the beak, feet and wings in place and just stitch the main body. Alternatively, add a base and leave an opening in the back seam to fill with mini eggs.
You will need: yellow and orange felt; black fun foam; white pen; yellow cord; yellow cotton; needle and scissors.
Cut out three 'Body' pieces and two 'Wings' from yellow felt, using Activity sheet 1, 'Easter gifts – templates'. Cut one 'Beak', and four 'Feet' from orange felt.
Place two of the 'Body' pieces together and stitch one of the sides, starting at the bottom edge and finishing centre top.
Add in the third 'Body' piece and stitch down half way, using a blanket stitch. Add in one of the 'Wings' and continue stitching to the base using oversew stitch to join the pieces together. Stitch the third side also adding in the second 'Wing'.
Cut 12cm of cord and tie a knot at each end. Place the two 'Feet' together and stitch around using blanket stitch, adding one end of the cord in as you stitch the top edge. Repeat for the other foot.
Stitch the centre of the cord inside the front of the chick.
Stitch the 'Beak' in place. Punch two circles of fun foam for the eyes, glue in place and add a dot of white pen.
Log in to your account to read