Discover a creative approach to literacy with our free audio story and linking activities
When David Dean of Romulus asked me to write a set of teachers' notes for his audio story The Twizzlecaps find Fairyland, I had some initial reservations – would the story be interesting and rich enough to sustain further activities in class? However, his enthusiasm and description of the product encouraged me to give the story a listen. And so I did, and from that very first listening I became one of the Twizzlecaps' greatest fans!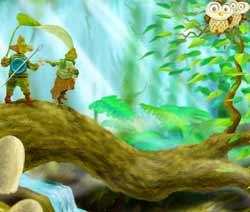 Join the Twizzlecaps on an enchanted adventure
Told over eight episodes – each of which is broken down into small, manageable parts – the story is full of adventure and memorable characters. The voices, music and sound effects all combine to transport listeners into a vibrant world. From the opening storm (with crashing trees!) to the magic of the fairyland, it is impossible not to be caught up in the story. I found myself listening to it from beginning to end. What fun!
Keen to try the CD out with children, I approached several of my grandchildren between the ages of five and seven, and was thrilled to see their response to the story. At the end of each episode, they were eager to talk about the characters and the exciting world that was slowly being revealed. Just who are the Twizzlecaps? Are they fairies or humans? What will happen next? As we moved further into the story, it was clear that they were as hooked as I was!
Log in to your account to read